Influencer Marketing is a trending way to market products and services to last-mile audiences through the "Power of Influencing". It can be considered the Next Big Thing in the Digital Marketing Industry in upcoming years.
The world of social media is filled with enormous opportunities. Be it Instagram or Facebook, people spend a lot of time exploring and discovering content related to their interests spanning lifestyle, food, luxury, technology, fashion, entertainment, etc. As we are living in a world full of trend-pleasers, we are inherently influenced by some of the other things that social media offers. It is something that is also impacting our socio-cultural and buying behaviors in various ways. Be it the desire to buy new shoes or go to some new place, social media is all behind our minds making us do different things. This is what the "Power of Influence" social media is offering.
Influencer marketing is accelerating the trend by generating better ROI than other methods of marketing. As per the stats by Marketing Hub, 9 Out of 10 Marketers believe it is quite an effective way to generate good leads and brand reach.
Why Influencer Marketing is the Next Big Thing in upcoming years
Helps in Reaching Last-Mile Audiences
Influencer Marketing is a great way to reach last-mile audiences. Since traditional marketing offers a generalized way of promoting your brand, influencer marketing is one such way to focus your marketing efforts on your target or niche audiences. This can be considered a sharp digital marketing strategy offering ways to promote your brand through "influencers" who have a fan following of potential consumers that might be interested in using your product or service.
Lively Way of Marketing Your Brand
Social Media is mostly about capturing the emotions of people which offers influencers a great opportunity to inspire their followers. Influencer marketing is quite different from the approaches of billboard marketing or spammy ads that people usually don't like. As influencers are mostly found promoting brands in a more lively and relatable manner, it attracts the limelight of consumers in a better way. Through influencer trends in 2022, people can relate the brand to their aspirations and lifestyle influencing them to purchase the product.
Rise of Social Media Trends Will Foster Influencer Marketing
Social media platforms are booming. Over the last several years we have seen an enormous growth of platforms like- Instagram, Snapchat and Clubhouse. Influencer marketing is not just limited to pictures, it has moved beyond it covering other formats like video, audio and blogs. Be it Youtube, Pinterest or Clubhouse, Influencers are all around helping brands to promote more interactively.
Social Media Features Influencing Multiple Ways to Market Products
The influencers are using innovative ways to increase engagement among potential consumers influencing even brands to invest in such strategies. The social media features like- Instagram Reels and Carousel Posts are becoming hotspots to drive brand advocacy and engagement through social media. The brands are now also associating directly through the "in partnership" features of Instagram mentioning brand and influencer directly
Cost-Effective Model of Marketing
Influencer Marketing campaigns can be done in various ways. Some influencers prefer to barter for products while some charge hefty for doing posts, stories or videos. Every influencer has its own pricing model based on the requirements of the brand. Still, influencer marketing is quite cost-effective as compared to paid marketing strategies. Nowadays brands are aligning their offline marketing directly with online influencer campaigns to increase their reach.
Micro-Niche & Nano-Influencers Will Be the Core Driver of Influencer Campaigns
We can already see how big celebrities are earning huge revenue by taking up Influencer Marketing campaigns. From famous Hollywood stars to Sportspersons, everyone is quite active on social media acting as influencers to promote brands online. As brands might find these kinds of celebrities quite costly to run a campaign, they have an alternative to find Micro-Niche and Nano Influencers who have relatively fewer followers but have a potential target market. The brands like- Lays, Coca-Cola, and Dineout have already tried Micro-Niche influencer marketing.
As per Anuja Deora Sanctis, Founder, and CEO, of Filter Coffee Co, The Trend of Influencer Marketing will see the rise of Micro & Nano-Influencers in 2021.
In-Video Marketing: Youtube Will Grow
Video consumption has enormously grown since covid happened. This allows quality content creators to become advocates of the brand by promoting products and services through vlogs or reviews. Many lifestyle influencers have partnered with fashion & beauty-based brands showcasing their products through in-video mention.
As per Apaksh Gupta, Founder & CEO, of One Impression, The consumption of content is shifting towards video trends enabling smart product integrations.
New Age Revenue Models will Drive Growth of Influencer Marketing
Influencer marketing is now not just limited to posting photos or videos provided by brands. The influencers are owning up more relatable conversation and connecting with audiences to make them more genuine. The affiliate and equity-based pricing models will be the future of influencer marketing where content creators will earn money based on how much revenue they generate for brands.
Tik-Tok Influencer Marketing
TikTok is a great potential way for brands to promote themselves through a wide range of short video influencers. In terms of talking globally, it hosts a huge number of micro and mid-tier influencers ranging from 10k followers to 50k+ followers offering brands a huge opportunity to promote themselves. The tik-tok is also tapping into AR (Augmented Reality) based videos to make them more interactive for audiences.
Tracking Your Growth: Enabling Tools For Leveraging Influencer Marketing Trends
Here are various tools to help brands find and track their influencer marketing trends:
Traackr: It is one of the top platforms that allow the discovery, management, and tracking of social media marketing campaigns. Being an AI-based platform, it helps in the in-depth tracking of campaigns.
Upfluence: It is a popular influencer management platform offering various detailed insights about influencers' profiles related to audience size, engagement, quality, etc. It can also be used to run affiliate marketing campaigns.
Shoutout: It is an end-to-end influencer marketing platform allowing brands to find top-ranked influencers for youtube, TikTok and Instagram marketing. It is a completely safe and genuine platform to find the best influencers in various niches.
Influencer Marketing in Action: How Brands Use it Well 
Lays #SmileDekeDekho Influencer Marketing Campaign
This amazing campaign lays featured the smiles of various influencers asking them to post images with chips packets on their Instagram account. This campaign overall generated an 8.2% increase in engagement with around 100 million impressions.
Cadbury Video & Instagram Influencer Marketing
The Cadbury featured popular influencers Ranveer Allahabadia and Singer Jasleen Royal to use the traditional tactic of product placement of "Dairy Milk Silk" in a marketing campaign. Apart from this they also partnered with Terribly Tiny Tales and Karthik Aryan to mention the role of quirky love and chocolates in relationships.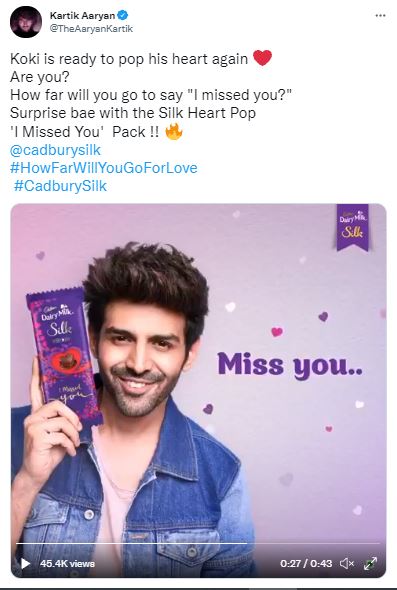 Peter England #MaiKyuPehnu Campaign for Mask Awareness
The famous clothing brand Peter England tied up with Celebrity Ayushmann Khurana to highlight the importance of wearing masks through influencer marketing campaigns.
Conclusion
Influencer Marketing is a trend-driven industry that has the potential to drive leads and sales in better ways compared to any other traditional marketing tactics. As we are gradually moving into a highly digitized ecosystem, it is one such promising tactic that brands can bet on.
Nikita Sharma is Chief Strategy Centrik @ HIcentrik. She Strategizes, Optimizes & Revises digital activities to deliver optimum results & returns.
6 Years of Global Experience in Multi-tasking, i.e. Digital Advertising, Social Media, Ad Campaigns, Web Design & Development, Lead Generation, and Reporting.