Account-Based Marketing Strategy is a more dedicated digital marketing strategy of following the prospects which have a higher possibility of converting into sales. The strategies can be aligned with on-going marketing campaigns to yield scalable results. 
Digital Marketing is now becoming more focused and personalized day by day. There are various strategies acting towards generating leads and sales for the businesses by targeting the right consumer segment at the right time. As per the recent trends, it can be seen that the marketing industry is dedicated to targeting those businesses or individuals which could really help them in acquiring clients and scaling up the business. In order to hit the right target, account-based marketing can prove to be a useful strategy in acquiring clients for your business. 
Why Account-Based Marketing is helpful in increasing sales?
Account-Based Marketing is a customized strategy to identify the right potential consumers by creating buyers persona to effectively market the products and services. It tends to generate quality sales for the businesses in a scalable manner. As per the insights shared by industry experts, The ABM leads are capable of generating 50% more traffic in half of the cost sanctioned to other marketing campaigns.
Account-Based Marketing focuses on targeting interest-based accounts that have a higher probability of converting into sales. It can be done by following the right marketing tactics that cater to the interests and preferences of buyers personas helpful for your business. The ABM offers a very smart tactic to chase the right potential consumer to increase sales by benefitting them in various ways.
Powerful Strategy for B2B Businesses
The traditional marketing efforts might more or less require you to shell a hefty budget on different marketing campaigns such as- E-Mail & SMS Marketing, Social Media Marketing, Paid Ads, etc. In most of the cases, it works great in B2C business segments but in terms of targeting high-quality B2B prospects, this strategy might result in a setback for them. In contrary to traditional marketing tactics, Account-Based Marketing is a promising trend for B2B businesses to target high potential consumers by following more personalized and scalable strategies to generate sales conversions. 
Account-Based Marketing for Increased ROI
Does ABM accelerate the sales conversion campaigns? This is quite an obvious question when it comes to investing in marketing campaigns. While aligning other marketing efforts, as usual, the ABM can be additionally executed for a better effect on sales.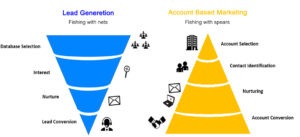 Almost 85% of marketers measuring ROI say that ABM outperforms other marketing investments   (ITSMA)
41% of B2B marketers worldwide plan to increase spending on ABM   ( eMarketer)
The Account-Based Marketing strategy promises a good return on investment to the businesses if executed in the right manner. The brands and organizations can get potential clients through targeting accounts on different channels to increase the chances of benefitting from the same. Since it is totally personalized to the target accounts or consumers, it has a better chance of conversions as compared to other marketing techniques that might also require you to shell a good chunk of the marketing budget. It can be aligned properly with other marketing campaigns to get a good benefit out of the same. 
Top 10 Tips for Creating Account-Based Marketing Strategy
In terms of following up with the buzz of Account-Based Marketing Strategy, Here are a few helpful tips that can guide you towards creating a successful ABM Strategy. 
Identifying & Analyzing Consumers & Target Prospects for Strategy
The account-based strategy is all about targeting the right prospects. Your strategy should work towards developing potential buyer personas which should clearly define the traits, interests, work profile, company, pain points, etc. of your potential accounts. It will help you to target the right prospect and will also increase the chances of generating sales. The marketing and sales team needs to work all together to find the best prospects out from various sources like- CRM, Account Profiles, Business connects, etc.
Following the Leads – Targeting Decision Makers
The decision-makers are the stakeholders in any organization who usually have a strong say in important decisions of the businesses. Following the right lead prospects that resemble your business might help you to close deals faster than putting wrong efforts on calling huge databases and scheduling back to back meetings. This directly helps you to target the right buyer.
Go Personalized – Following Personalized Strategy
The marketing strategy needs to be defined properly in order to resemble specific audiences which can give you a great scope to generate their interest in your product or services. The personalized tactics need to be followed through the use of innovative methods like- content marketing, blogging, videos, etc. which works as proven methods to reach out to your target audiences. 
The approaches can also be focused on the pain points of the consumers which can direct the attention of prospects towards the possible solutions for their businesses. It can be a great opportunity to generate sales by targeting individual pain points in a more comprehensive approach for businesses centric solutions. 
Make Use of High-Value Profiles/Accounts
The high-value profiles or accounts of top-tier management can help in terms of highlighting your product to those people who might get benefitted from your service or product. This can be done by filtering the job profile, organization, experience, etc. to increase the awareness and relatability of your product which can definitely lead to sales. LinkedIn can be used effectively to follow this tactic. 
Combining Efforts of Sales+Marketing
The efforts of the sales and marketing team need to be combined in order to generate desired results. The marketing team needs to do proper R&D on the business and consumer data before pushing potential strategies to get a good hold of target prospects. The sales team also needs to assist in the upselling and cross-selling techniques to reach out to the prospects for yielding better results. 
CRM is the Key to Success
The CRM is a data powerhouse for your business which can give you exact and useful insights about your consumers. It contains consumer personas which include details that can help you achieve your account-based marketing goals. The CRM can also help you automate some of your strategies to push efforts towards your enhanced sales funnel and conversion time. 
Content Marketing Strategy- Get Attention towards your Product/Service
Content marketing can be a killer strategy to target your prospects in a better way. Some of the tactics such as videos and blogs can direct the attention of your potential buyers in a more promising manner. Focusing on pain points, products/services and agendas can help in directing consumers towards your product in a short span of time.
Channelize the Right Path
Finding the right channel for your marketing efforts are important in terms of reaching toward your goals. It defines the platforms and channels where most of your prospect consumers reside. It is very important to find the correct platform and placement for your strategy to get the desired results. The different platforms may include- Linkedin, Facebook, Pinterest, Instagram, Twitter, etc.
Keeping up with Goals through Planning & Deadlines
It is important to define a time limit or checkpoints for your account-based marketing strategy campaigns to measure its effectiveness. It is quite important to define your KPI(Key Performing Indicators) to measure the success of your campaign. 
Success Matters- Analyzing & Refining Strategies
After the execution of campaigns and strategy, the hard work should really pay off. It is very important to keep track of your efforts and analyze the strategies & campaigns through the use of the right tools to track your success. The CRM can also be used to get the detailed insights on your campaigns which might also help you to refine your strategy for the next campaign. This process of execution and analysis can help you get the hold of your account-based marketing campaign in various ways. 
Conclusion
This blog by HIcentrik – Digital Marketing Company in Jaipur has clearly featured various aspects and lists out some of the great tips on how you can use account-based marketing tactics for generating sales faster for your business. As already mentioned, this approach is quite different from the hit and trial methods of traditional marketing and requires scalable efforts to generate effective sales in a shorter span of time. These strategies could really help you to multiply sales for your business like never before.
Nikita Sharma is Chief Strategy Centrik @ HIcentrik. She Strategizes, Optimizes & Revises digital activities to deliver optimum results & returns.
6 Years of Global Experience in Multi-tasking, i.e. Digital Advertising, Social Media, Ad Campaigns, Web Design & Development, Lead Generation, and Reporting.