The SEM vs. SEO debate fuels up lots of thoughts in everyone's mind, but it is crucial to know the expectations and requirements to plan your brand's marketing strategy in the right way.
Marketing is an essential activity for brands to grow and fetch ideal consumers by approaching the right methods. Since there are a lot of tactics followed by marketers these days, digital marketing is one of the hyped strategies to tap the consumers through digital mediums. It is focused on driving traction to your digital product or a platform and converting more leads into a consumer base. This is an ideal and popular way to drive traffic to your website to increase the chances of achieving your marketing goals.
While SEM and SEO being the buzzwords in the digital marketing industry, it is quite important for brand owners to know which is the best way to go. This blog highlights SEM vs. SEO crucial aspects of both these tactics to help you decide what is best for you.
Understanding the World of Digital Marketing: How SEO & SEM Plays the Role
The online world has a lot of traction compared to offline methods as people are spending more and more time online. Since there is already a large consumer base present, it opens up the opportunities for brands, products, and organizations to reach out to these consumers through various marketing tactics. The Search Engines offer leveraging opportunities for businesses to market their products and services to targeted consumers who are more interested in buying or trying your product or service. To refer to literal terms like SEO and SEM, both have different approaches that can specifically benefit the brand in various ways.
Search Marketing
Search Marketing focuses on tactics to market your brand through online or digital mediums. It includes both SEO and SEM.
Search Marketing helps the brand to get various benefits like- sales or traffic through appearing on search results distributed into paid and organic. The Search Engines on the internet do follow a similar set of strategy to treat SEO and SEM as per the standard practices- while SEO aim towards ranking websites on search engine organically, the SEM focuses on paid methods and advertising opportunities on various marketing channels to offer you a wide range of benefits as per your marketing goal.
What is Search Engine Marketing: Leverage Opportunities to Market Your Brand Across Diverse Marketing Channels
Search Engine Marketing refers to the strategy where brands pay search engines to drive traffic, sales, leads, and app installs by advertising their website into paid areas. The search engine marketing ads usually appear on the top and bottom of the search engine specified as Ads. These advertisements are also run on marketing channels like- Google Adsense, Google Double Click, Google Ads Network, Bing Ads, where the ads in the form of images, text, and videos are placed in high traffic websites.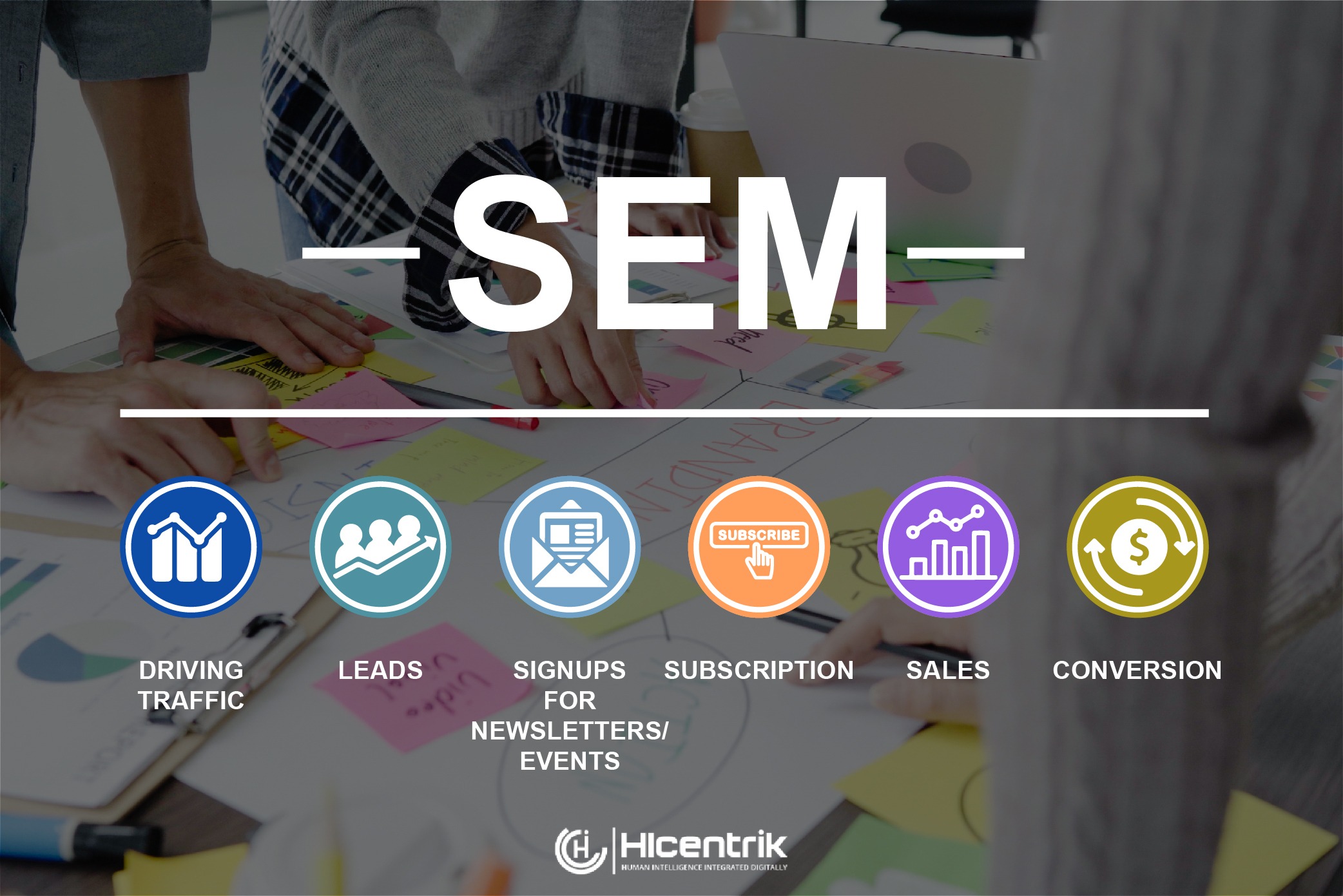 How Brands are Charged in SEM
There could be various ways search engines charge brands to offer them definite results as per their marketing goals. Google and bing popularly follow a PPC (Pay Per Click) model to charge brands based on clicks. As marketing opportunities are evolving and consumers are increasing online, the search engines have also invented other methods like- CPM (pay per impression), pay per install, etc., to benefit brands in getting more consumers through effective pricing methods.
Goals of SEM
Search Engine Marketing helps drive traffic and traction to your website and also increase app installs for apps listed on platforms like- app store, google play, etc. The SEM solely works on a bidding process to decide when and where the ads of your brand will be visible on certain keywords. Locations, etc. or not. This depends on a lot of factors like- Ad Quality, Location, Target Keywords, etc. Here are various goals that SEM can offer:
Driving Traffic to Website
Generating Leads
Signups for Newsletters/Events
Sales for Products/Services
Subscription
Conversion
Search Engine Optimisation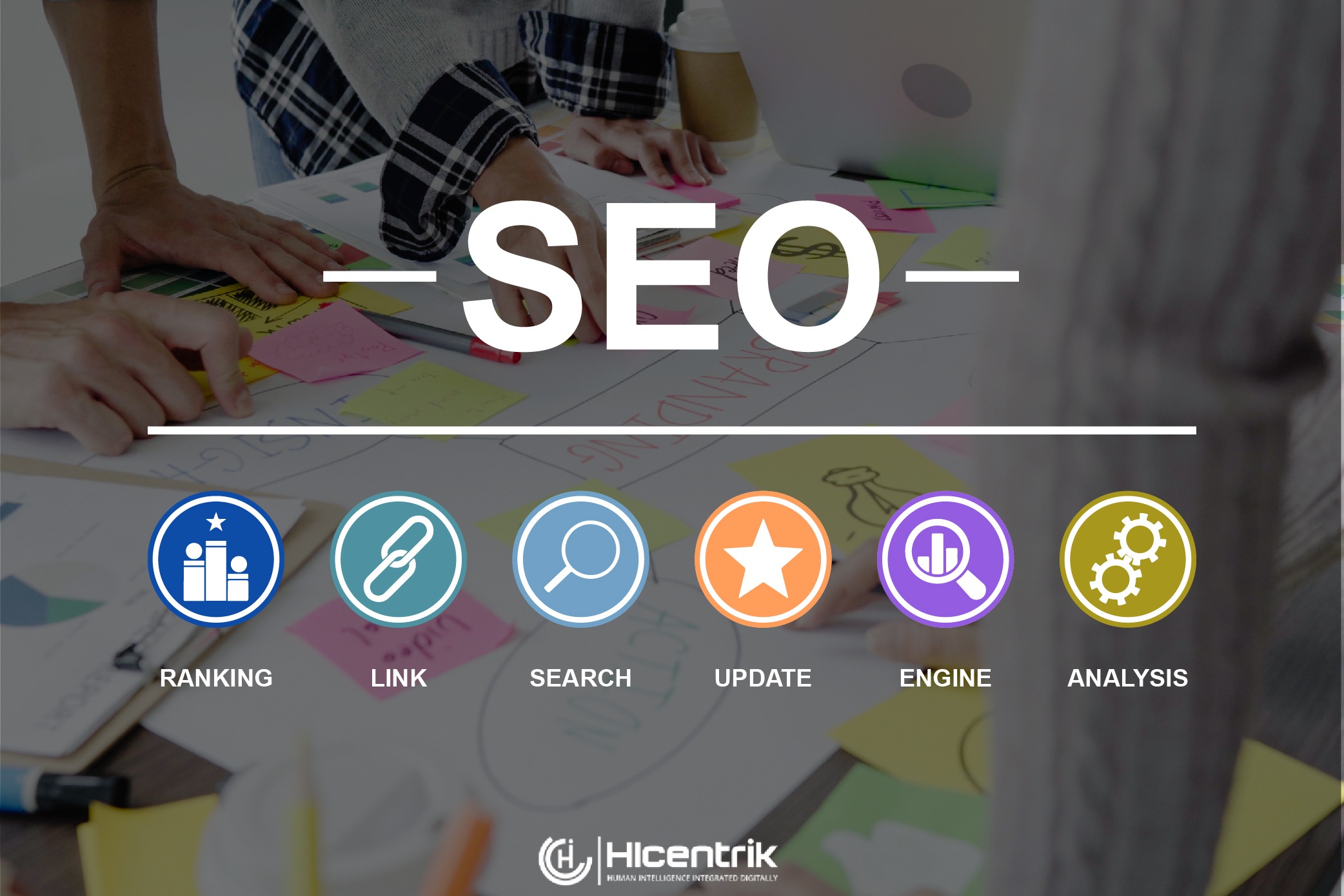 SEO is an important part of Search Marketing but going by their functional areas, both of them aim to achieve a similar set of goals and deliver attainable outcomes. The SEM is completely focused on paid aspects, while SEO is an organic process that might take constant time and effort to fetch you scalable results. It follows various techniques to get the web page ranked in the top results as per the focused keywords to gain more consumer traction and clicks to the web page. Here are crucial parts of SEO Activities:
On-Page SEO
Making a website or web page ready to be crawled by the search engine based on content, keywords, etc.
Off-Page SEO
It refers to building trust and authority of a website or webpage by making valuable links.
Technical SEO
Enabling a better customer experience while ensuring aspects such as- mobile-friendliness, speed, indexing, errors, etc.
What is the Difference between SEM & SEO?
The SEM & SEO concepts may be applied differently as per the brand's marketing goals and expectations. To summarise both aspects, here are some of the points which will help you to understand slight differences between SEM & SEO:
SEM Search Results appear on the Ad section, while SEO results appear on the organic listing of SERP Ranking.
SEM is completely paid, while SEO costs nothing except time and effort.
SEM results are instant as you just need to set up the campaign, while SEO Results may take weeks to months to appear on top ranking.
SEM is valuable for short-term gains, while SEO may offer you strong brand positioning on the web for the long term.
SEM & SEO: Which is Better for Your Brand?
The SEM & SEO both might offer visible impacts and results for your brand. The strategy to choose between the two must be based on whether you want long term results or just short term gains. If you plan to spend a large chunk of your budget acquiring consumers in a short span of time, paid marketing or SEM might look the best option for you. Simultaneously, you can also plan continuous efforts on SEO practices to capture the market without wasting much time. Since SEO offers you a long term competitive advantage, it is always better to align your efforts well with the SEM practices to leverage time and opportunity. Here is how you can decide which is better for your brand:
Competition
The SEM can be competitive as per the market trends, but SEO can offer you opportunities to tap untargeted keywords and gaps to rank your page and content organically without shelling much budget.
Value
SEM can give you short-term value in terms of marketing outcomes, but SEO can strengthen your position and brand image on the web.
Buying Cycle
The SEM can help you to instantly convert leads as per your marketing goals through paid methods, but SEO can help in offering insights, research, ideas, and related content about your brand to help your consumer consider your brand's worth.
Authority
You can decide to start marketing through SEM in the initial phase, but SEO can help you over time to build authority on the web to rank on high traffic keywords organically.
SEO Readiness
SEO can take time and effort, but SEM can help you run the ads from the first day itself.
Nikita Sharma is Chief Strategy Centrik @ HIcentrik. She Strategizes, Optimizes & Revises digital activities to deliver optimum results & returns.
6 Years of Global Experience in Multi-tasking, i.e. Digital Advertising, Social Media, Ad Campaigns, Web Design & Development, Lead Generation, and Reporting.