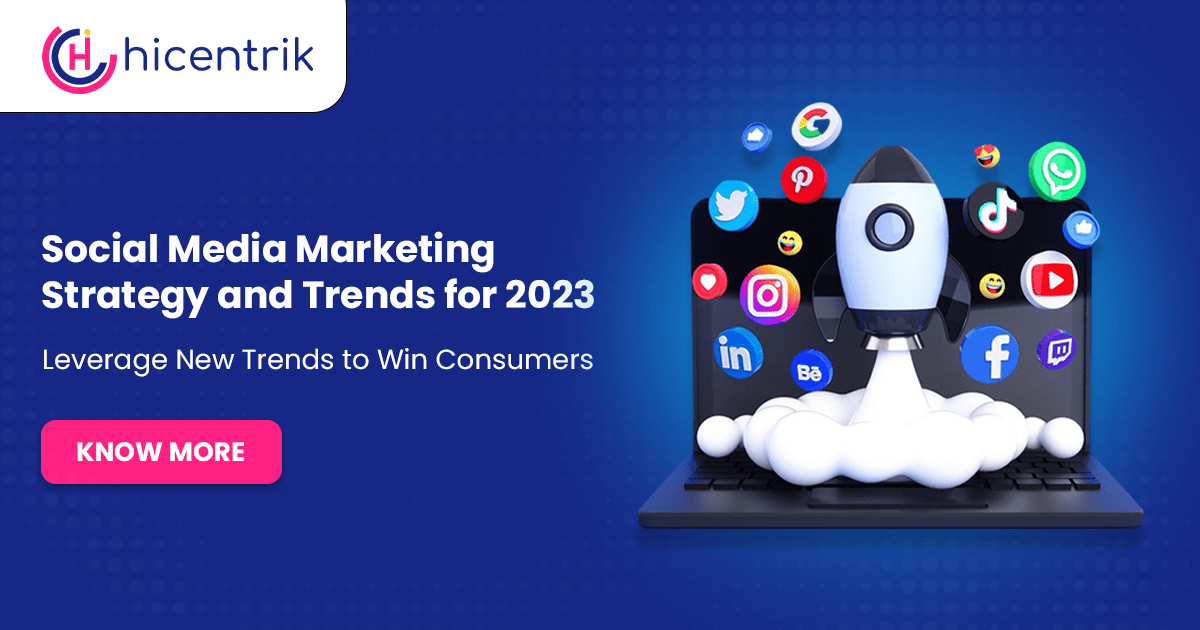 Social Media Marketing trends focus on building a strong brand presence, which also helps in acquiring the target consumers. This blog features crucial points to help you Build Your Social Media Marketing Strategy for 2023.
Marketing tactics might require businesses to adapt to changing trends in the Digital world. In order to achieve this, Social media marketing may offer a competitive edge to businesses in many ways. As consumers spend most of their time exploring content and purchasing products online through social media channels, it provides a leveraging opportunity for businesses and brands to outsell their competitors. The digital space trends are enormous, and every new year brings lots of changes, excitement, and opportunities to grow your brand online in quite different ways. In the world of digital marketing, capturing trends and getting along with the fad may fetch you some amazing benefits. This blog features some of the crucial points and insights that might help you plan your brand's social media strategy in 2023.
As per Buffer, 73% of Businesses believe that Social Media Marketing has turned out to be very useful for their brand.
Why Social Media Marketing? Define Your Strategy Right
The marketing strategy should be defined well to reach out to potential consumers by tapping the enormous potential of social media channels. As per the stats by Global Web Index, 2-2.5 hours is the average spent time of users active on social media platforms, which answers why to build an influential brand presence on social media. The strategy can help you get to the essential tasks to boost your engagement. Here are a few tips to follow while planning a social media marketing strategy for your brand.
Social Media Marketing Strategy for 2023
Align Your Marketing Goals
It is quite important to have a very clear view of what you want to achieve from your brand's social media marketing. As there are different ways like- organic and paid marketing, the marketing goals will help you yield the ROI of your campaigns as per your business expectations. Here are some of the goals that can help you in building your business.
Increasing Brand Awareness
If you are new to the market or industry, it is important to build your brand image among your consumers. Increased brand awareness may offer recognition and growth to businesses. It is the stage where you can pitch your brand and its products/services to the target consumers.
Generating More Leads & Sales
Social media can help you generate more leads and sales through various tactics like- product discounts, giveaways, attractive offerings, etc. If you want to increase more sales, you need to plan creatives and offers to lure your target audiences.
Driving Traffic to Website/Store/Portal
It is also possible to influence your consumers to check out your brand-new website or product store by offering them some amazing coupon codes to increase web traffic.
Segment Buyer Personas- Build Your Target Audiences
The buyer personas can turn out to be an influential tool for marketing to reach the right audiences. The specific targeting and identification of your consumers and their needs can give you leverage to serve your audiences with relevant content to draw their intent in trying or buying out products. The buyer personas create a virtual image of your potential consumers to help you plan and strategize content and offerings as per their aspirations. The age, location, interests, buying behavior, etc., can help you identify your buyer persona.
Diversify Your Social Media Planning- Choose Multiple Platforms to Reach Audiences
In 2023, it is crucial to go live on all social media platforms to broaden your consumer base. You can plan your social media marketing strategy differently for different platforms like- Linkedin, Instagram, Facebook, Pinterest, etc. Through this, you will be able to cater unique content to audiences while building a strong social media presence. Nowadays, it is not a recommended strategy to post similar content on all platforms as it might chunk out the ability to draw the attention of your consumers as per the platform. For ex-, the Content on Instagram might not attract users on LinkedIn as they tend to consume more industry-oriented content, which might pull their interest from the brand's post.
Be Consistent – Timeliness is the Key to Increase Engagement
Social media platforms offer you a lot of insights and metrics to help you know how your followers engage with your posts and profile. It is recommended to be consistent in posting content as per the schedule to get the best engagement rate for your content. There are many tools that can offer you insights related to specific engagement times and when your followers are more active so that your content gets a good reach.
Ephemeral Content: Short Span but Greater Attention
Ephemeral Content can be categorized as content that lasts for 24 hours. The stories, videos, reels, live streams on Instagram, etc., come under this content type. Ephemeral content will be a big social media trend in 2021 as it drives higher engagement and pushes followers to make instant decisions to sign up, follow, or grab offers provided by the brand.
Social Commerce – Selling Products on Social Media
Instagram is continuously adding new features to improve the experience of how brands can sell products to consumers. There are lots of brand pages online already selling products through traditional ways of messaging people or adding posts, but it's soon be turning to an immersive experience where the brands will be able to sell products with ease through built-in shop features like- product detail page, shop button, checkout, etc. This will help consumers to directly purchase products on Instagram without leaving the platform.
Social Listening – Tap the Right Trends & Shout out loud
Everyone loves trendy advertisements and product features that soar all across Instagram and Twitter when something special happens. These all are part of a bigger marketing trend called social listening or to refer in common terms following the trends. The best campaigns and moments can convert into successful social media campaigns that might give the brand better discoverability and visibility across social media platforms. The only requirement to achieve this is to tap the right moment and produce apt content to show the world.
Influencer Marketing – Reach out to Bigger Social Circles
Influencer marketing is still a boon for brands to influence people. All popular brands like- lay, Cadbury, and Coca-Cola are opting for influencer marketing to build relationships with people through customized campaigns designed to touch specific emotions. The influencers do feature a genuine following, and this is a true fact that it can boost the brand presence at negligible costs.
Retargeting – Use Social Media to Capture Offline Customers
Retargeting marketing helps businesses to target offline consumers on social media by capturing opt-in data to help them make their minds purchase the product/service of your brand. This can be done through Facebook, Instagram, and LinkedIn to follow your offline consumers online. This is part of paid marketing but gives a huge return.
Consumer Retention & Review System
Word-of-mouth advertising works quite loud in the world of social media as consumers share their experiences with the world quite often. These can be in the form of video reviews, testimonials, ratings, referrals, etc. It is always good to feature real consumer experiences on your social media while also incentivizing consumers to share them with the world.
Conclusion
These social media marketing trends are quite helpful in boosting your brand's engagement. These points will help your brand to get better discoverability and reach in 2023 to get your brand ahead of your competition. The tactics can be used as per the brand's marketing objective to get desired results for acquiring quality leads and boosting sales through social media channels. Social media is a playfield to get your brand placement right in front of your target consumers and convert this leverage into real sales.
Nikita Sharma is Chief Strategy Centrik @ HIcentrik. She Strategizes, Optimizes & Revises digital activities to deliver optimum results & returns.
6 Years of Global Experience in Multi-tasking, i.e. Digital Advertising, Social Media, Ad Campaigns, Web Design & Development, Lead Generation, and Reporting.