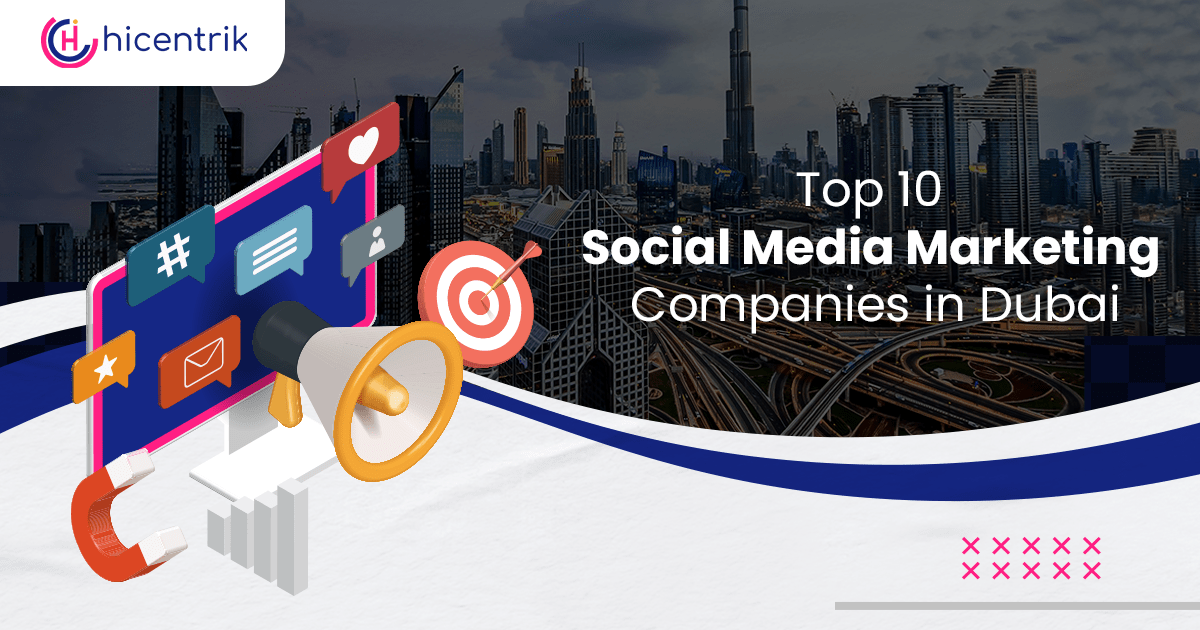 Dubai is popular as a prominent technology hub in the UAE. The city keeps attracting new business ventures every year. As a result, the demand for creating brand awareness increases. When it comes to increasing your brand's visibility, promoting them on social media platforms is crucial. That is why businesses rely on the top social media marketing companies to help strengthen their brand presence. 
If searching for social media marketing services, look at the best companies to partner with.
Hicentrik

Hicentrik is undoubtedly one of the top social media marketing companies in Dubai. With years of experience in the field, the agency has earned an excellent reputation for delivering top-notch services. The certified experts in the team understand the client's requirements and deliver reliable services. They leverage the latest technologies and help brands to drive more traffic through the biggest social media apps.As a top social media marketing company, Hicentrik offers a full suite of services. The key services include influencer marketing, online reputation management, SEO, community management, and content creation.

Digital farm

Digitalfarm is a leading social media marketing company in Dubai with expertise in everything social. The agency's team of over 80 experts is dedicated to helping brands build strong social media campaigns and engage more customers. They provide clients with smart strategies to stand out in the competitive world and build global brand awareness. The main services of Digitalfarm include lead generation, strategy development, content production, crisis management, channel assessment, and SEO. The top clients of the agency are Stepping Stones, Perfect Balance, Yas Marina, Amity International, and Bawiq.

Prism

Next on the list is Prism. It is renowned in the list of Social Media Marketing companies in Dubai, enabling your brand to engage customers on platforms like Instagram, Facebook, Twitter, and LinkedIn. Professional experts invest time in understanding the client's business and their target audience and accordingly provide the best services. Prism's most prominent social media marketing services are WhatsApp marketing, Twitter promotion, Instagram promotion, and Facebook advertising. Moreover, you can even opt for services like LinkedIn advertising and Snapchat marketing. The agency's main clients are Del Monte, the Ministry of Health, L'oreal Paris, First and Fit, and Bentley.

Be Unique

If you are looking for social media experts to enable your brand to stand out, count on the experts of Be Unique. The social media marketing agency offers paid and organic strategies to increase the discoverability of your brand. With over 34 years of experience, the professionals are committed to helping brands create an excellent reputation in the market. Be Unique offers services to diverse industries like travel, health and fitness, lifestyle, beauty, and more. The company's key services are social media management, social network listening, channel planning, optimization, and paid ads promotion. Some of the firm's top clients include The Hummingbird Bakery, Holiday Inn, Invisalign, and Michelin.

Brandcare Digital

Founded in 2015, Brancare Digital has emerged as a reputed social media marketing agency in Dubai. The agency provides comprehensive services to help businesses grow online and improve their brand presence. The company's data-driven approach enables them to deliver the best client outcomes. The key social media marketing services of Brandcare Digital include ad campaign management, content creation, social media audit, and community management. The popular clients of the agency are VR Cleaning Services, Averda, Luxiero, and Al Medmar Café.

Outreach Marketing

Founded in 2008, Outreach Marketing is a renowned social media marketing company in Dubai. The agency specializes in helping brands manage their social media calendar and post content that grabs customers' attention. Qualified professionals enable brands to trend on different social media platforms. The key services of Outreach Marketing are community management, content creation, analytics and reporting, and reputation management. The agency has worked with clients like Makeup Studio, Caltex, Agate Kitchens, Nestle, and more.

Nexa

Nexa is another award-winning social media marketing agency in Dubai. The firm helps brands leverage social media's power and expand their reach to more customers. They assist you in engaging your target audience and achieving your business's specific goals. The services offered by Nexa include influencer marketing, content creation, social media listening, lead generation, reel creation, and community management. The agency's top clients are American Heart Association, The Meydan Hotel, and Bosch.

Clicktap


Clicktap Digital is a popular social media marketing firm specializing in delivering valuable services to clients around the globe. They help enhance the businesses' reach and ensure better savings on advertisement costs. They can help promote your brand on the top social media platforms like Twitter, Facebook, Instagram, and Snapchat. The prominent services of Clicktap Digital are SEO, strategy consulting, community management, and online reputation management. The agency's main clients include 7 UP, Huawei, Pepsi, and Aquafina.

Webtek Digital


Webtek Digital is a social media marketing agency committed to helping brands generate more qualified leads. The agency leverages the power of popular social media platforms like Instagram, YouTube, LinkedIn, and Facebook. The experts can help you to connect with the right customers on the right platform. The key services of Webtek Digital include digital PR creation, video creation, content analysis, and reputation management. Karam Foods, Aisha, Artin, and Home Team are the top clients.
Element 8


Element 8 is yet another prominent social media marketing agency in Dubai. The agency specializes in providing custom services to clients at competitive prices. The main social media marketing services of Element 8 are influence marketing, content writing, SEO, ad copy creation, and video creation. The top clients include Faza Sanitary Wave, Whites, Aamro, and Saudi Cast.
Conclusion
Social media marketing has become important with the increase in social media users. You must have a complete idea of Dubai's top social media marketing companies. It is time to partner with the right company. Leverage the services of the experts and build a positive brand image on social media platforms. 
Nikita Sharma is Chief Strategy Centrik @ HIcentrik. She Strategizes, Optimizes & Revises digital activities to deliver optimum results & returns.
6 Years of Global Experience in Multi-tasking, i.e. Digital Advertising, Social Media, Ad Campaigns, Web Design & Development, Lead Generation, and Reporting.