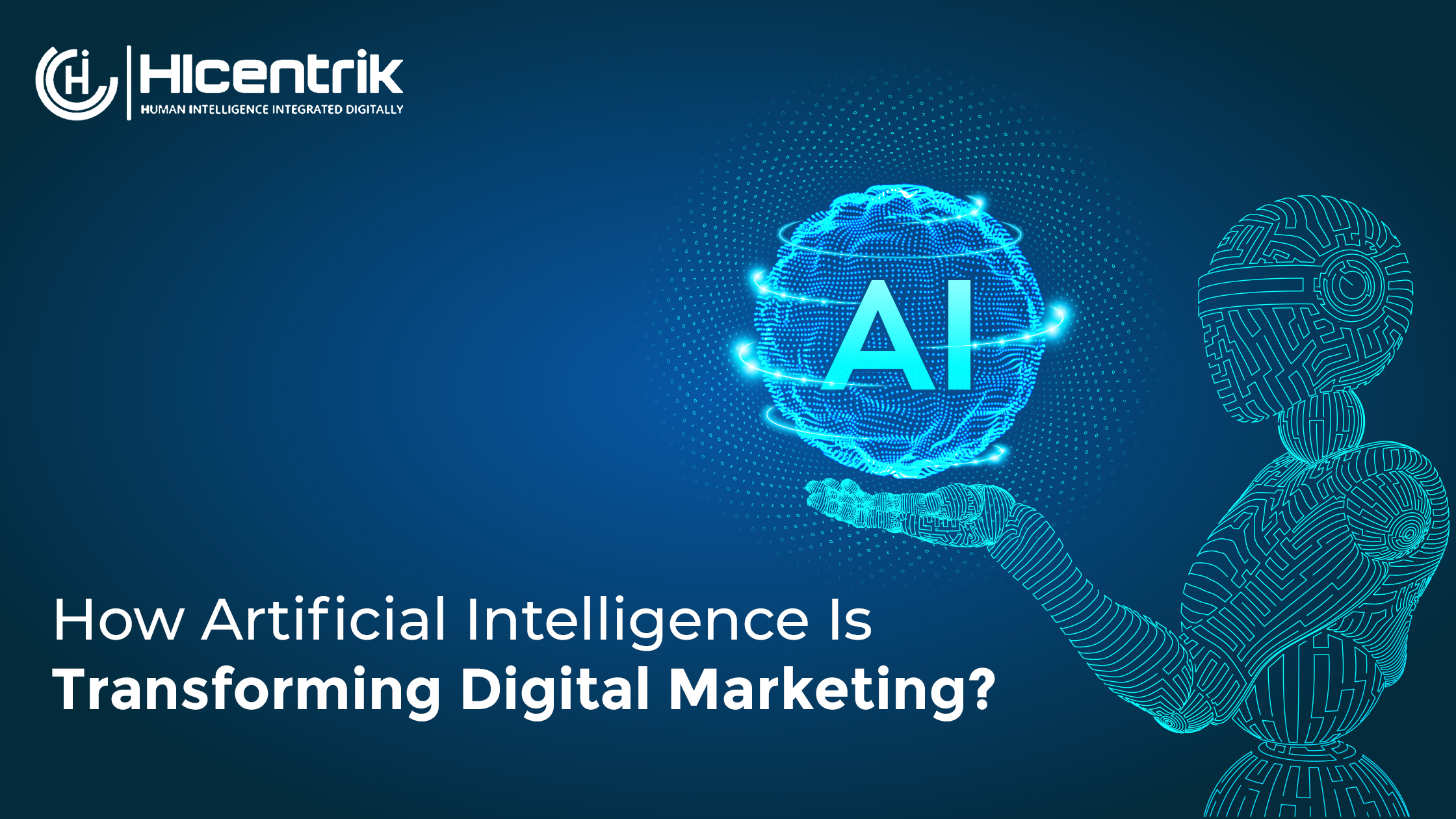 Are you curious to know about how artificial intelligence is Transforming Digital Marketing? Read this blog to uncover the aspects of how this will be a gamechanger in the world of Digital Marketing.
We all know that the trends of digital marketing are ever-changing, and it is something that influences the marketing industry to evolve dynamically in one of the many ways. Since marketing as a concept in itself is growing at a rapid pace, technology is something that is complementing it in the race towards futuristic trends. One such trend is Artificial Intelligence, infusing new techniques and tools to get a lot out of it. Google being the best example of this amalgamation, it is something that proves how Digital Marketing has transformed in the last few years. It also showcases what our future is going to look like.
Role of AI in Marketing
Artificial Intelligence is designed in a way to mimic human patterns, and it is something that will take up a lot of things in the future. While AI is a useful integration in marketing, it will help both marketers and businesses to utilize it in the best ways possible.
The AI can help with a number of tasks in digital marketing, including optimizing campaigns, understanding customer behaviour, and providing personalized recommendations. In addition, AI can also help automate tasks such as customer service and report generation.
Artificial Intelligence: Transforming Trends of Digital Marketing
Digital Marketing is really helpful in terms of accelerating business growth. If combined with technical aspects like Artificial Intelligence, it can make many things happen in various ways. From sorting data analytics to understanding consumer personas, AI can be a great tool in assisting the best possible strategies to scale up the business.
Artificial Intelligence will accelerate the marketing trends and will assist marketers in choosing the right methodologies to gain better results. It can help marketers to use AI-driven strategies to enable automation for increased ROI.
Here are some of the aspects listed below to help you understand how AI will transform the Digital Marketing ecosystem in the coming years.
Gain Better Insights through Artificial Intelligence
It is a fact to understand that we live in a world where we have access to information silos, and data is also vastly available. The AI can utilize this benefit and foster better decision-making to plan and design marketing strategies focused on the specific industry or target persona. There are tools available in the market that can help you plan your campaigns from scratch without any human input, and this can be done perfectly by a machine learning model.
Marketing Automation
Who loves inconsistent approaches to planning, executing, and monitoring campaigns every day? While Marketing Automation is the buzzword in the digital marketing industry, integration with AI can make things work as per the needs of the business. It is something that has the capability to shoot emails, SMS, and personalized calls to your target consumers to increase lead generation without any effort. The AI-based models can be designed in a way to understand marketing funnels well to execute campaigns as and when needed.
AI Fosters Personalisation in Marketing
If you are thinking that AI will result in making marketing too salesy, you are probably wrong. The AI will make marketing more personalized for the end-user and will help marketers to make the communication go clear and right to the bunch of existing, new, and target consumers. Due to the availability and access to large data sets, AI is capable of executing personalized campaigns while ensuring better conversion.
Content Marketing through AI
It is quite impossible to think that content can be written by AI just like humans do, but you need to believe anyhow that the future is just here. There are ample tools available on the web enabling you to write content, and hence it may soon become a prevalent thing in the industry to deliver any content through AI writing tools.
AI in Digital Advertising
Campaign optimization can be a big thing for advertising experts, and this thing can be easily solved by AI to deliver ads as per the needs of the business and product. It can easily analyze and target the group of users automatically as per the demands of the campaign enabling better utilization and ROI. This will help companies to save both time and costs on a mass level.
Lead Generation & Sales through AI
Gone are those gloomy days when you had to hire salespeople to sell your products.​​ The AI-based lead generation and sales tools can easily serve the needs of consumers by suggesting them the right product as per their purchasing behaviour and other insights. Since data is a critical factor in feeding input to these tools, it has the capability to learn and evolve on its own.
Is AI in Digital Marketing Here? How Far Have We Come?
All these aspects covered in this blog are already here in the market, and as the technology progresses, marketing will soon be enabled through smart AI-driven tools. From social media marketing to content writing and campaign optimization, the AI will be everywhere to assist in the best ways possible. Currently, leading companies like Amazon are also utilizing AI to understand consumer behaviour and then suggesting products to increase sales. Examples like this in the world of digital marketing are available enormously, and it is something that will soon take up the trend.
Conclusion
It's exciting and interesting to see the pace at which AI is changing the face of marketing, and it will continue to grow large and wide in the future. It is something that will enable new trends in the digital ecosystem. Since the search engine algorithms are also becoming smart and user-centric, AI will work towards solving complex marketing problems in a simplified manner.
Nikita Sharma is Chief Strategy Centrik @ HIcentrik. She Strategizes, Optimizes & Revises digital activities to deliver optimum results & returns.
6 Years of Global Experience in Multi-tasking, i.e. Digital Advertising, Social Media, Ad Campaigns, Web Design & Development, Lead Generation, and Reporting.