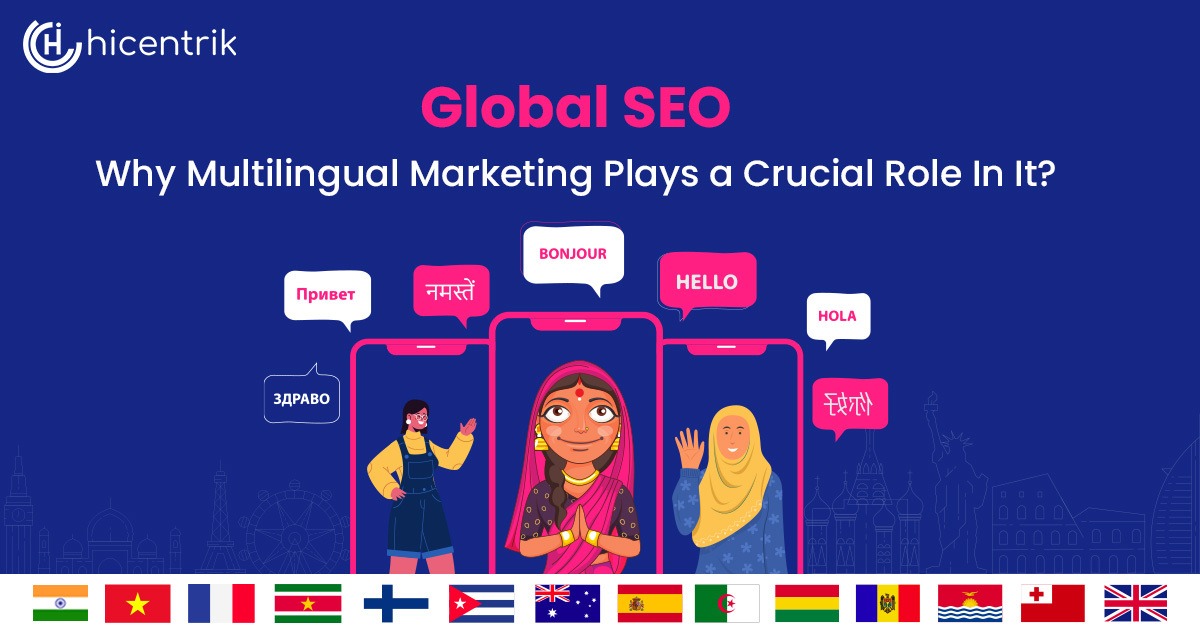 Global SEO (Search Engine Optimization) is all about the collective efforts that help you to increase the organic traffic of your website.  
Whereas Global SEO, or in other words, International SEO, is all about expanding your business internationally. Global SEO includes paid and organic growth. 
Let me tell you that not every website can make money from an international audience. But if you wish to stand out from the crowd, Global SEO will be the best solution for you. 
The best way to grow your business is to use global SEO for your products and services.
 This blog will help you to know more about Global SEO and why and how multilingual marketing plays an important role.
What is Global SEO?
Global SEO, or international SEO, focuses on developing your website's organic presence in international markets.
 In many countries, Google is the main source of most search traffic. The graph below is the best example to prove this: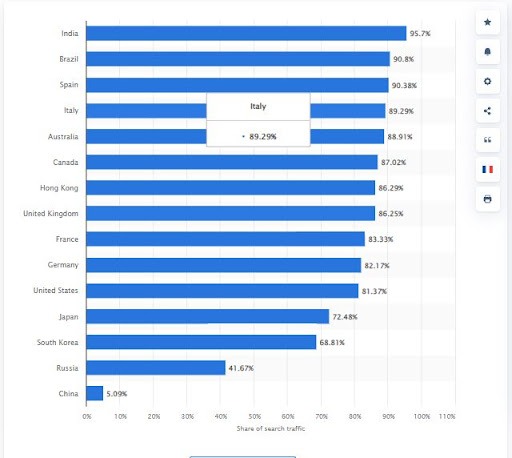 If you track your organic presence in the Global Market with the help of a ranking tracker like Moz Pro, you will get the exact report of how your website content is ranking in other countries. 
And you will agree that if your content is good, then the country hardly matters. 
All we just want to say is that each country has its unique audience, so it is important to have a different SEO strategy.
Using Global SEO, your company may maximize its exposure across several nations by navigating cultural variations on a global scale.
Why is Global Search Engine Optimization Important?
If you know that most of your website traffic comes from other countries, it may be time to make a few changes to your website to provide a better user experience for international visitors. 
In words, Global SEO is a totally different concept, but in reality, it seems familiar to local SEO. All it's required is smart SEO strategies. 
Consider Global SEO as the Geotargeting, but instead of optimizing the local traffic, you are working to optimize other countries and their languages. 
So if you are planning to create a Global Website, all you need to accommodate these three steps:
If you wish to target an international country or region, use a friendly URL structure (targeting the country)

Use the language tags to target which pages you are targeting.

Create the content in the target users' language.
 At times you only wish to target a particular language or country. In such a case, you may only need to work towards the specific goals. For instance, if you own a clothing company specializing in T-shirts with Spanish slogans, then your target audience will be Spain and Mexico. 
As you have noticed in the above section, we have addressed language repeatedly. Also, in Global SEO, multilingual language plays a crucial role. 
 Global SEO must have content in different languages on your website. Remember that distinct linguistic content must be appropriate for your target country.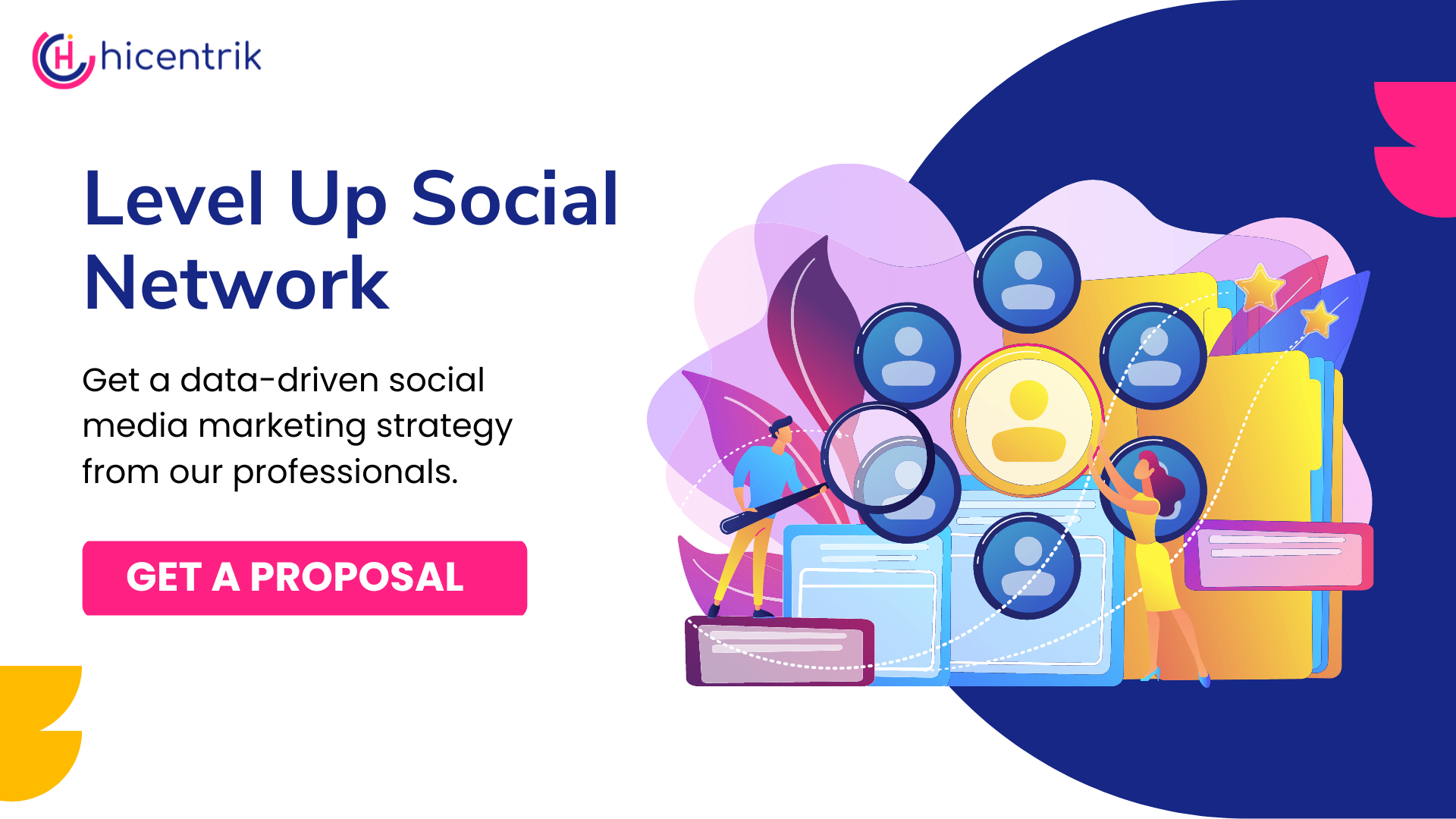 Understanding the Multilingual Language
The global linguistic landscape is immensely diverse, with various languages spoken by various populations. It is critical to grasp and accept this variety in global SEO.
Recognizing the numerous languages that prospective customers use to search for information, goods, and services is a crucial part of exploring the linguistic landscape.
Many SEO experts will agree with us that multilingual marketing does not come without the challenge. It's complicated, time-consuming, and energy-intensive.
So how to get started with multilingual marketing?
What is Multilingual Marketing?
There is more to multilingual marketing than just learning a new language. It bridges the cultures and opens the doors to new opportunities. It includes cross-culture communication and global marketing strategies to communicate with diverse language communities. 
Are you aware that the linguistic landscape covers about 7100 languages spoken worldwide? 
This rich linguistic tapestry emphasizes the significance of multilingual marketing in reaching a broader audience and forging genuine connections. You may design tailored marketing efforts that resonate with your target markets if you grasp the relevance of language variety, cultural adaptation, and language preference.
Why is Multilingual Marketing Important?
As businesses expand their reach across borders and start targeting diverse language communities, the importance of Multilingual Marketing becomes increasingly evident.
Check the importance of Multilingual Marketing importance for your business:
a. Expanding the Global Reach 
With multilingual marketing strategies and multilingual SEO, it gets easier for you to enhance your reach.

Businesses may tap into new markets and attract clients from diverse cultural backgrounds by adapting marketing messages to other languages.

It creates prospects for worldwide expansion and growth, allowing enterprises to establish a global presence and compete on a bigger scale.
b. Enhance User Experience
Multilingual Marketing is a commitment to meet the needs and preferences of the customer by providing content in their language.

By speaking to the customers directly in their native language, you can successfully create trust, familiarity, and authenticity, which helps you to gain a better user experience. 

Customers are more likely to engage and purchase when they have communicated in their language.
c. Increase website traffic and conversions.
Optimizing your website in multiple languages it gets easier for you to increase your website visibility.

Multilingual SEO tactics, such as localized keyword research and the use of hreflang tags, can aid in attracting targeted traffic from various language markets.

With multiple languages, there are possibilities to boost conversions, as you can directly connect with your target audience who are looking for services and products. 
d. Building Trust and Credibility
Communication in customers' native language shows a genuine interest in understanding and engaging with their needs. 

Customers regard organizations as more competent and reputable when communicating successfully in their language; therefore, multilingual marketing builds credibility and trust.

It lowers linguistic barriers and strengthens emotional connections, enhancing brand loyalty and advocacy.
e. Staying ahead of your competitors
Businesses compete worldwide in different sectors, and those who can effectively deal with diverse language markets have a competitive advantage.

Businesses that invest in multilingual marketing stand out from competitors that may only cater to a single language or ignore the need for localization.

Adopting multilingual marketing methods early allows organizations to create a strong presence and generate brand loyalty before competitors do.
What are the Multilingual Marketing Strategies to reach your target market?
Now that you are familiar with the benefits of multilingual marketing let us delve deeper into the winning strategies that will help you with global expansion and success in the Global market.
Conduct comprehensive market research

.
The first stage is to conduct market research. Try to learn about the language preferences and cultural subtleties of your target country. The market research includes identifying the languages spoken and any regional variances. This will be useful in developing multilingual strategies.
Now that you have the research data, it's time to focus on localization. To update you all, there is a difference between localization and translation. And here we are talking about localization. 
Localization entails modifying your content to be compatible with the intended audience's language, customs, and preferences. So choose specialized translation services and collaborate with native speakers with extensive cultural understanding. 
By doing so, you can increase the audience's ability to relate to your content. 
Prioritize Multilingual SEO and Website Localization
Since your website is your potential client's first point of contact, it is crucial to prioritize website translation. Use a language selector to make it simple for clients to change between languages.
Note that your website needs graphics, symbols, colors, and even a date/time format to align with regional tastes. 
The most crucial thing to remember is global SEO, which will increase the exposure of your website by using pertinent keywords in each language. 
Customized Marketing Strategies
That's my point of interest. Let's discuss it.
Identify your target market and develop techniques for each linguistic community there. Utilize cultural insights that are consistent with the beliefs and interests of your target audience. 
You can make a wise choice by partnering with regional influencers to broaden your reach and improve the visibility of your business.
Additionally, we talked about conducting in-depth market research, which will enable you to connect personally with your multilingual audience.
Expansion strategies globally
Global expansion necessitates careful preparation and a thorough understanding of the target market. 
When developing an expansion strategy, consider elements such as local norms and regulations, cultural sensitivities, and market trends.
Work with local digital marketing specialists to gain an in-depth understanding of each area and guarantee that your efforts are targeted at the right people.
Engaging with multilingual audiences on social media is a gold mine. Create a separate social media account for each target language, and tailor your content to the audience.
Participate in localized conversations, distribute relevant content, and react to comments and messages as soon as possible.
Working with digital experts will also help you to amplify your brand visibility.
Monitor your multilingual strategies and gather feedback from your audience. Analyze website metrics, engagement rates, and feedback to identify the scope of improvement.
Stay updated on the current trends, language, market dynamics, and cultural change. This will help you stay aligned with your strategies, and you can win the race. 
To further elaborate, tailor your marketing messages, content, and graphics to reflect the cultural preferences, standards, and linguistic peculiarities of specific language communities in the area.
This allows you to communicate your brand messages and effectively connect with your audience. 
Are you ready to dominate Global SEO?
The world has become even more globalized as a result of the digital revolution. You need to expand your business now. You see, international shipping and shopping are now as simple as tapping your smartphone screen, thanks to the e-commerce and dropshipping sectors.
You can reach out to us to boost your website visibility and aim the dominance in the global market with robust Global SEO strategies. At hicentrik, we offer a suite of winning strategies to help you build a strong SEO presence with your multilingual website. 
From keyword research to on-page and off-page optimization and link building, we will help you through each step involved in building a successful multilingual website.
Nikita Sharma is Chief Strategy Centrik @ HIcentrik. She Strategizes, Optimizes & Revises digital activities to deliver optimum results & returns.
6 Years of Global Experience in Multi-tasking, i.e. Digital Advertising, Social Media, Ad Campaigns, Web Design & Development, Lead Generation, and Reporting.