Digital marketing agencies are a good option to accelerate business growth. It offers you a viable option to make an end-to-end consumer journey and sales work in a positive way.
Are you Looking for the best digital marketing agencies to skyrocket your business sales? It is quite obvious for fast-growing businesses to look for agencies that can help them multiply their sales to drive more revenues.
As most of the businesses are product-centric, they often look forward to partner with agencies to make the sales figures work for them so that they can focus on the essential roles of product building. It can be achieved through the varied aspects of digital marketing services like- PPC, Facebook Ads, E-Mail marketing, SEO, etc.
Why Digital Marketing is a Good Option for Every Business?
Businesses can leverage various Growth Marketing techniques to help them attain goals while reaching out to targeted audiences in a short span of time.
It not only boosts their capability to acquire consumers but also helps them to attain revenue by serving a wide variety of clients. As digital marketing has become a need of an hour, it is quite essential for companies to opt for comprehensive services for growth hacking that can aggressively target diversified platforms.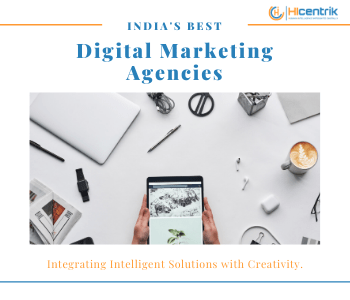 Digital marketing agencies in India focus on comprehensive aspects of sales funnels to enable client acquisition and retention in a business lifecycle. This helps businesses to grow faster. Here, I am presenting the top 10 Digital Marketing Companies in India.
Top 10 Digital Marketing Companies in India
1. HIcentrik
HIcentrik is one of the promising digital marketing companies in India that aims to integrate intelligent solutions with creativity. The core of their business strategy revolves around offering ROI-driven solutions to accelerate business growth. The industrial clientele of HIcentrik includes- Unique Group, Kamelia Cleantech, Jaisalkot, Jainson Locks, etc.
Location: Jaipur  | Contact: hi@hicentrik.com
2. Adlift
One of the best growth agencies in India, it aims towards revenue-oriented performance marketing campaigns for clients around the globe. AdL ift works on areas like- Digital Account Management, Performance Marketing, SEO, SEM, Business Analytics, etc. The agency has a diverse experience of working with clients like- Kent Ro, 99 Acres, ICICI Prudential, etc.
Locations: Gurgaon | Contact: info@adlift.com
3. Gozoop
It is an integrated digital marketing agency offering services around growth strategy and sales optimization. It focuses on building an online brand presence by integrating sales strategy and analytics to drive growth. It has already worked with reputed business clients like- BMW, Amazon, Dell, etc.
Locations: Mumbai | Contact: Contact@Gozoop.com
4. Voxturr
A reputed Digital Marketing agency focused on delivering higher returns on the digital advertising sphere. It works with a comprehensive approach to offer quantifiable marketing solutions for businesses to target consumer journeys in a viable manner. It has a diverse portfolio of clients which includes- IBM, TATA, Sodexo, etc.
Locations: Gurgaon | Contact: contact@voxturr.com
5. Brandloom
Brandloom helps businesses to take their marketing efforts online through diversified channels. It follows the brand commerce approach to grow businesses by using essential digital marketing techniques to drive greater revenue. The reputed lists of clientele include some of the big names in the Indian industrial ecosystem such as Jubilant Foodworks, Hero, Wipro, etc.
Locations: Bangalore, Gurgaon, Delhi, Mumbai, Pune | Contact: care@brandloom.com
6. Upgrowth
It utilizes data-driven marketing approaches for businesses to support them in growth and revenue. It works on the growth process from scratch till consumer acquisition for driving value to businesses. Some of the reputed client names are- Moneyonclick, deAsra, Lendingkart, etc.
Locations: Pune | Contact: shubha@upgrowth.in
7. Niswey
It is an experienced digital marketing and media agency working on the aspects of consumer acquisition through inbound marketing. It follows content-driven and analytical approaches to drive sales and traction for businesses. The clientele includes- BenQ, Yahoo, NIIT, etc.
Location: New Delhi | Contact: business@niswey.com
8. ThinkWhy
It aims towards offering growth-oriented solutions to brands and businesses. Being a digital-driven company with a strategic approach, it offers viable marketing solutions helpful for business growth. The clientele includes- Allevents, Tie, The chocolate room, etc.
Location: Ahmedabad | Contact: listen@thinkwhy.co
9. EZRankings
It is one of the popular agencies in India offering conversion optimization solutions for business growth. It offers analytics-based services to access sales and conversion strategies for businesses through SEO & SMO techniques. The lists of clients include- Yatra, Honeywell, Casio, etc.
Location: Noida | Contact: contactus@ezrankings.org
10. WebChutney
It is a premier and one of the best digital marketing agencies in India catering to diverse industrial clients in various domains. It works on online advertising along with growth hacking to drive greater business revenues. The clientele includes Airtel, Microsoft, P&G, etc.
Locations: Mumbai, New Delhi, and Bangalore | Contact: contact@webchutney.net
Nikita Sharma is Chief Strategy Centrik @ HIcentrik. She Strategizes, Optimizes & Revises digital activities to deliver optimum results & returns.
6 Years of Global Experience in Multi-tasking, i.e. Digital Advertising, Social Media, Ad Campaigns, Web Design & Development, Lead Generation, and Reporting.