When you type "Enterprise Resource Management or Resource Planning Software" on the web, Google will throw up lot of information, which at times may get confusing. To get an in-depth understanding of how ERP solutions can transform your business, let's get to understand what ERP actually is and how it works.
Imagine a scenario where you have to manage a team and resources with no proper tool. You are loaded with many resource requests and have a mix of team members with different skill-set, experience, some are contractors or freelancers. Add to it various projects running with crazy timelines, demanding clients, and managing sudden leaves along with it – doesn't it get tricky?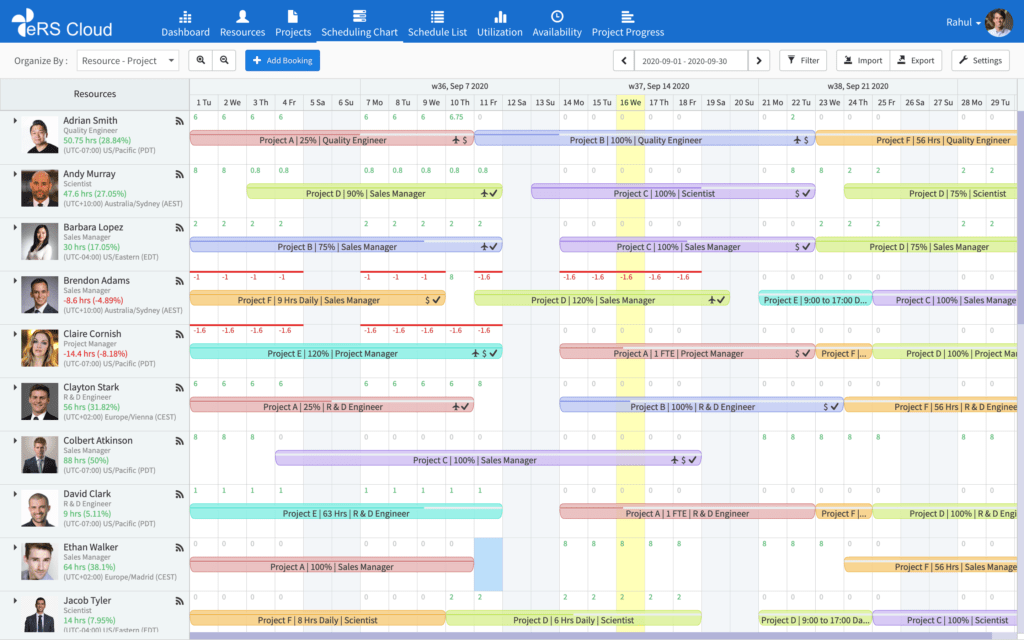 Here is where a good Resource Planning or Management Software can help. To define, "Enterprise Resource Management" is the consolidated process of gathering and organizing business data through an integrated software suite. One such path-breaking software that is trending these days is eResource Scheduler, and we have tagged it the tool of the month. Read on to find how it can help.
eResource Scheduler (eRS) is a well-rounded and intuitive project resource management and scheduling tool that bridges the gaps between project planning and execution stages. Best for organizations dealing with project planning, workforce scheduling, and other analytical tasks in a single operating environment. This multi-user employee planning, scheduling, and management software makes your life much easier in terms of project management, resource management, and team collaboration. Its client-server architecture enables multiple users to collaborate, work together, and share data in real-time, which, in turn, offers real-time visibility of all the resources across the organization, throughout multiple cities or countries. eRS can be easily configured if you need to schedule employees or some custom-defined resources like meeting rooms, vehicles, etc. It aids in maximizing utilization at all levels by providing comprehensive dashboards and other best-in-class tracking features.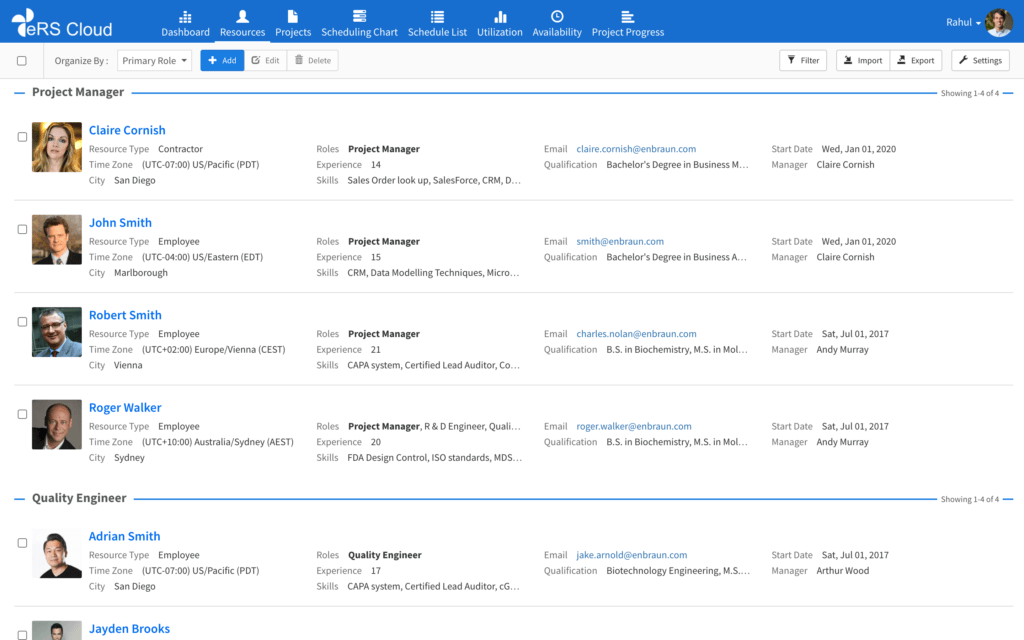 Match projects with best-fitting resources allow you to align the best team members to various project requirements as per the skill-set, their availability, experience, and more. You can create comprehensive project reports by choosing apt filters, get an insight into historical process/project data, view forecasts on team utilization, do a budget tracking, or plan for projects in the pipeline.
Key Strengths of eResource Scheduler
Detailed Resource and Project/Job/Event Profiling
Drag and drop scheduling, recurrence, split booking options
Detailed reporting of data that enables in-depth view/analysis
Highly Configurable
What makes eRS stand out in comparison to its competitors? The highly-configurable fields, filters, views, and forms make it the first choice across organizations and industries. This end-to-end solution can help you manage your available resources, scheduling information, plan projects, and analyze your profitability. Wondering how? Use multiple types of custom-defined fields and forms that can be designed as per your needs. You can pick different forms for different projects and resources. Manage multiple working calendars with different holidays and exceptions and ensure accurate resource capacity in all conditions.
Visual Graphical Snapshots and Powerful Reports
The life of project managers gets easy with effective utilization and availability reports, visual snapshots. Delivering key data that enables informed decision-making and helps in maximizing resource utilization and even profits. With eRS, you can pull out real-time utilization for every resource and automated skill matching. With this state-of-the-art tool, you can forecast resources, pipeline, manage capacity, and easily assign multiple tasks to a resource. Configure the reporting views in a few simple steps if you want to better understand the data. Apply color coding to identify over and under-utilized resources with configurable filters. Configurable graphs provide easy to understand visual representation of complex data and aids in quick decision making.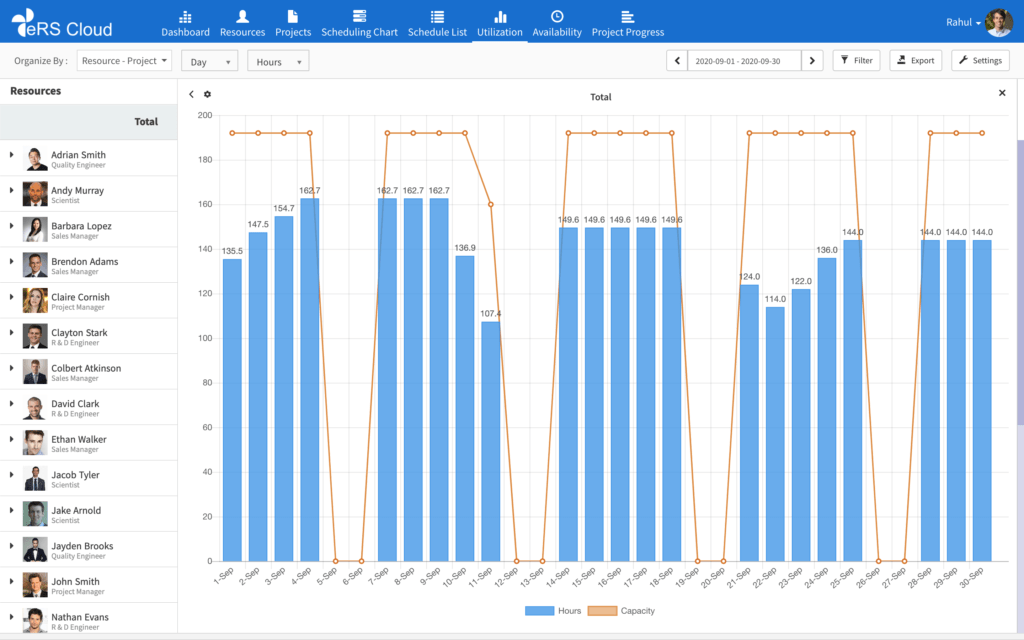 eRS helps you get billability charts and Gantt charts that drill-down the tasks, various projects, and even the resource availability in minutest details. Be it the Gantt chart view or the drag n drop features, resource planning for multiple projects can now be done in a breeze and in lesser time and effort. Take your dashboard to a completely new level with the informative widgets of eRS. What's more? The dashboard widgets can be configured in several units and date ranges and offer a summary view of project count, total resource count, overall capacity, utilization, and availability along with other required information for scheduling resources.
eRS offers flexibility in terms of user access rights depending on various screens, groupings, and custom-defined fields. This enables organizations to demarcate which level of access they want to provide to every user as per their requirements. Advanced access rules permit organizations to segregate data as per their structure while maintaining complete data confidentiality and complying with requirements.
Free Trial Topped with Personalized Support
eResource Scheduler is available in four SMB and enterprise pricing plans for organizations to choose from. You can choose the best-suited plan for your business as per the resources and requirements. The best is that you get a free trail along with personalized support to configure the tool as per your requirements. For 25 Resources, you get this software for $75/month (annual billing) and if you have up to 100 resources, the cost goes up to $225/month.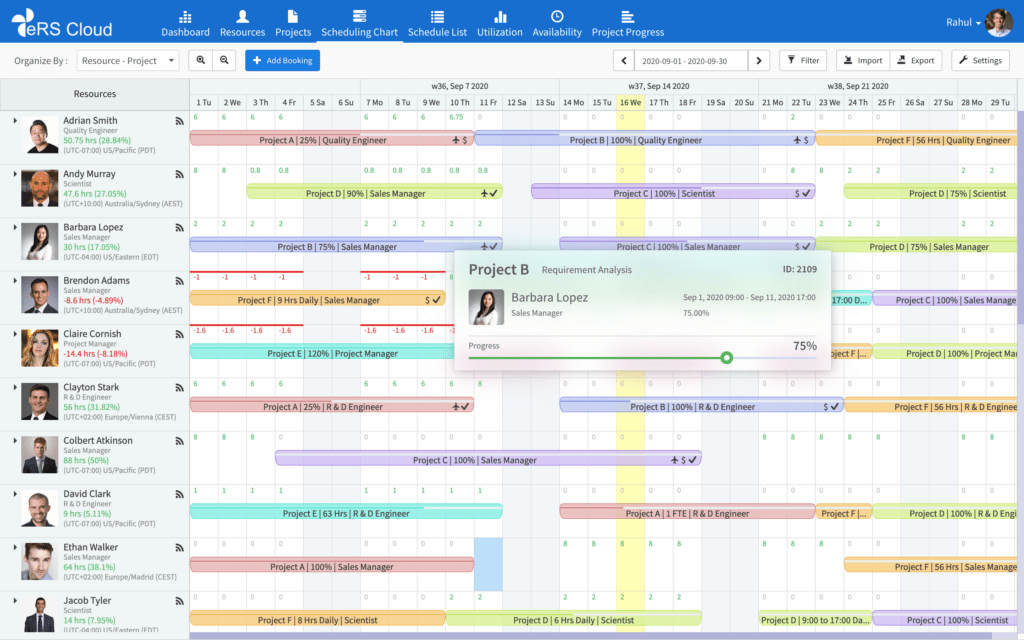 Along with that you get other features like unlimited users, user access rights, unlimited projects and bookings, resource request and gap reporting, and timesheet module. You also get the project cost and revenue module, utilization and availability reporting, financial reporting, and updates and fixes.
Yes, eResource Scheduler ticks off all the boxes when it comes to both its features and reasonable cost. This resource management tool is also very easy to use and simple to learn and adapt to. What's more? The company offers its personalized Account Manager Support as an offering to help you in creating and configuring various forms and fields or download reports specifically suited for your business.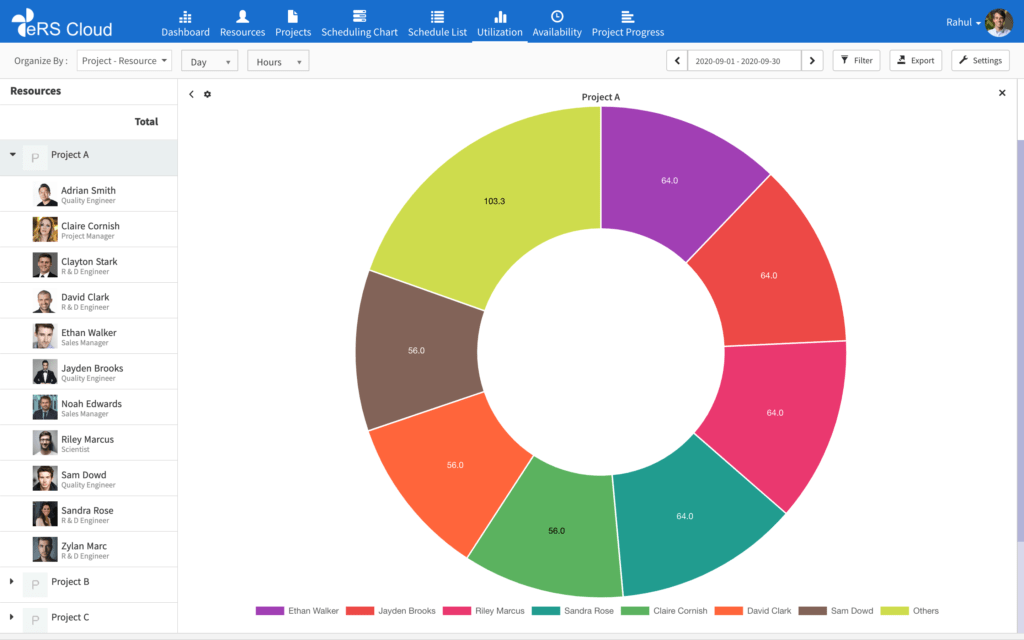 Don't worry about how you'll get attuned to this tool, as the company offers online training along with webinars and detailed documentation to help mitigate any risks. So, what are you waiting for? Have you contacted Enbraun for the top-rated and award-winning eResource Scheduler yet?
Nikita Sharma is Chief Strategy Centrik @ HIcentrik. She Strategizes, Optimizes & Revises digital activities to deliver optimum results & returns.
6 Years of Global Experience in Multi-tasking, i.e. Digital Advertising, Social Media, Ad Campaigns, Web Design & Development, Lead Generation, and Reporting.