The B2B Industrial Marketing based industries and businesses are now actively adopting digital strategies to grow their business in the digital space. In this era of the 21st century, the digital space gives enormous opportunities for businesses to grow online. 
B2B industrial marketing is considered as a backbone of business activities that influence business growth and revenue in various ways. In terms of looking towards the digital aspects, more and more industry-based businesses are now planning to design digital inclusive strategies to reach out to more B2B clients in an effective and scalable manner. Since digital marketing is different from the prospects of traditional marketing, but it aims to achieve the same objective as a whole. The only difference which digital marketing offers to businesses is its capability to have complete track and control over real-time campaigns, budgets, and marketing goals.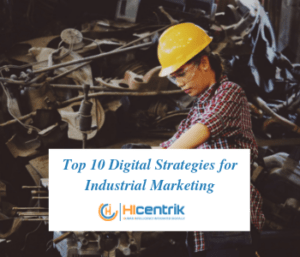 As per the industry trends as well, It can be seen that the businesses are now combating the digital space to win consumers more innovatively. It shows the readiness of B2B industries to opt for such digital strategies to tap competitive advantage before the others. This completely aims to benefit businesses in various ways by getting good ROI out of digital marketing strategies and campaigns. 

Digital marketing offers a vibrant scope to the industries in terms of getting more qualified and actionable leads that are likely to convert effectively. Businesses can opt for various strategies across a wide range of channels like- LinkedIn, E-Mail Marketing, Organic Search, PPC, Content Marketing, etc. to win influential business clients in a scalable approach. These days, account-based marketing strategies are also quite powerful to tap the right consumers at the right time which also results in faster lead conversions.
Marketing these days is no more limited to the sphere of word of mouth or extensive networking approach. It can be seen that the competitors, buyers, and sellers actively hunt for genuine brands and businesses online through various modes of the digital sphere. Most of the companies also rely on E-Mail and inbound marketing strategies to tap their B2B Industrial Marketing clients regularly. This offers them a fresh perspective to target potential consumers quite effectively.
Influencing Decisions of Decision Makers – Industrial Approach for Digital Marketing

Digital Marketing for industries focuses more on targeting top-tier executives and the management of businesses. It works towards feeding an awareness about the products or services which could help them in making a sound decision. The emphasis is also more in terms of product placement, pricing, contracts, and reliability of service. This approach differs a lot from traditional marketing techniques and involves extensive research.

Boost Your B2B Industrial Marketing With Top 10 Digital Strategies
Focusing on Website & Improved UI/UX
The website is a primary element to market your business in the digital space. Without an extensive consumer-friendly website, it is almost impossible to convey your business to clients. In terms of SEO factors as well, a website with mobile-friendly support and a user-oriented interface looks more appealing to the consumers and leads to low bounce rates. It also gives a great advantage to businesses to generate leads effectively while ranking on top search results.
On-Page SEO & Technicalities
The On-Page SEO is an essential element to rank up in the top search results of search engines. The On-Page SEO ensures that various guidelines and technicalities are followed well as per the recommendations by search engines to increase your site visibility. It includes meta tags, descriptions, title tags, content optimization, etc. which can give you a great edge over your competitors. Every webpage should be completely optimized to see the desired results.
Focusing on Content to Target Your Audiences
The content is the major part of SEO Success- A website with great informative and understandable content can rank well in top search results. It also makes it easy for your target audiences to understand your business easily. This decreases your bounce rates and enhances the chances of generating potential leads. Similarly, you can also host a blog on your website to get more visibility of your business on search engines.
Account-Based Marketing Strategy
Account-Based Marketing is focused on targeting audiences of your industry relevance. It is a mix of marketing and sales strategies to target only those potential groups of people who are more likely to buy your product or service. In this approach, the high intent accounts are targeted through various marketing channels to generate awareness related to the business. These strategies work more specifically to offer great leads and conversions.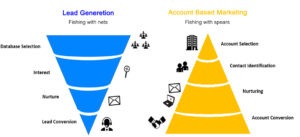 Getting a Good Hold of E-Mail Marketing
E-Mail Marketing can work as a proven strategy to revive your relationships with prospective clients. The genuine sources and CRM database can help you get the right results out of your e-mail campaigns to get better results in a short period. As per the industry insights, it can be seen that e-mails can be considered as an effective channel for marketing products/services in the B2B segment.
Pay Per Click Campaigns by Targeting Right Keywords
The paid advertising also works quite effectively in terms of generating good leads and redirecting potential audiences to your business website. The PPC or pay per click model works through defining the right set of target keywords to get your website to show up in the paid search results which appear on the top of the organic results.
Targeting LinkedIn to Get B2B Visibility
LinkedIn proves to be a great professional platform when it comes to increasing brand visibility in the B2B segment. LinkedIn hosts thousands of top-tier employees from various B2B businesses which can help you to get your prospective client. In terms of referring to industry insights, the B2B lead generation could be an effective tool for your business to acquire high-intent leads."As per the industry insights, 93% of B2B businesses opt for marketing through LinkedIn advertising to get potential leads."
Targeting High Authority PR Websites
Targeting high authority websites that allow you to distribute content can prove very helpful in terms of increasing the value of your organic search engine optimization. Sites like- Quora, Medium, etc. can help in terms of ranking your content on the top which will indirectly benefit your brand presence on the web. The Hight Authority websites work quite great in increasing your search engine ranking.
Performance Marketing & Affiliate Networks
Performance marketing is a buzzword in the digital marketing industry that offers you an amazing opportunity to tie up with affiliate networks that helps in terms of delivering you potential leads and sales for your business. The affiliates usually work on both lead generation and sale conversion models to offer an extensive trust-based strategy for your product or service which in turn works great in generating good revenue through these networks.
Display Ads for Various advertising networks
The display ads are quite influential in terms of visually appealing to the target clients. This could be an effective paid advertisement strategy to look for potential consumers through various display ad networks. Google potentially offers your various placements such as Gmail ads, YouTube ads, GDN ads, etc. which could influentially work towards comprehensively generating awareness about your business."As per the various studies conducted on business marketers, it can be seen that 63% of industry-based businesses opt for display and banner ads for marketing to reach out to potential consumers which are more likely to convert."
Nikita Sharma is Chief Strategy Centrik @ HIcentrik. She Strategizes, Optimizes & Revises digital activities to deliver optimum results & returns.
6 Years of Global Experience in Multi-tasking, i.e. Digital Advertising, Social Media, Ad Campaigns, Web Design & Development, Lead Generation, and Reporting.