Commercialization of Holiday Season
–
Yes, it is a very true fact and every E-business & Organisation is doing that at a really large scale, still the practice of spending on gifts for family and friends has a strong presence and is the cultural norm all across the globe. However, the one most important thing that is changing rapidly is where customers are going to buy their Christmas gifts.
Black Friday, Cyber ​​Monday & Christmas Day is not the only goal. It might be the biggest weekend of the year, but it also marks the beginning of the busiest week of the year 2019.
Holiday Season 2019 – The Shining Opportunity for eCommerce Businesses
The holiday season for 2019 is here, also this is the end of an awesome decade as well. This is the right time to highlight the holiday shopping facts from the year 2018 and before that to make a strategy for the trends of the Christmas & New Year season in 2019.
Although the products which drove the maximum revenue to your store will surely offer you a boost again in 2019 holiday season, it is still wise to analyze the most selling products and strategies behind their success to optimize your eCommerce store digital marketing plans to gain more Engagement, Impression, Revenue, and Revenue.
Recap – Holiday Season Sale Year 2018
Top Trends Which Ruled The 2018 Year End Month
Gifts related to arts & crafts were on the top priority and grab the 47% gifting market share followed by food & beverage & travel related gifts securing 45% and 41% market shares respectively.

Almost 30% of the sales were done by the last-minute shoppers.

As per the study by eMarketer, the feast of the total retail spending in 2018 rose from 5.4% to $ 998.32 billion. Even conventional brick and mortar retail also showed significant sales growth with an increase of 3.9% reaching up to $ 874.42 billion, while industry e-commerce grew by 16.7% reaching up to $ 123 Personal 90 billion in the holiday season of 2018.
More than 66% of online shoppers use their phone to make a decision for online eCommerce Shopping. During the Thanksgiving period in 2018, more than 44% of all e-commerce holiday season purchases were made using a smart device.
Holiday Season 2018 witnessed Artificial-Intelligence based techs used by E-Businesses, Organisations and common people as well in the United States. Furthermore, it is safe to say that the Artificial Intelligence, Virtual Reality and Block-chain Tech ​​will gain more influence as industry experts predict 85% of all transactions will be AI-based by this Holiday season.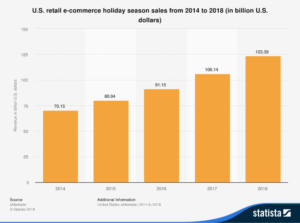 Holiday Season Predictions For 2019
Growth for holiday season shopping from the online market is projected to increase by 13.2% as compared to the year 2018.                                                            (Source – Statista)
People are now more comfortable buying online than ever before and this trend will rise more this season.
Experience-Driven Marketing is going to be the major key factor in every E-business's digital marketing strategy.
As per the study by the Adobe the BOPIS Methodology -[buy online, pickup in store]-will see rapid growth in holiday season 2019, with 39% more BOPIS orders placed in 2019 compared to the year 2018, ADI predicts. In fact, 37% of customers surveyed said they plan to use BOPIS this holiday season.
Also, A detailed report by Adobe showed some really shocking predictions for the holiday season 2019.
Sign Off
Holiday Season, though sounds a relaxing week or a month but undoubtedly it's a perfect time to pull up your socks! The above mentioned strategical moves and facts are not only limited to E-Commerce but a perfect fit for every business on Earth. Focus more on what you can offer to your prospects and existing clients since its a time they scroll more! CAPITALIZE.
We at HIcentrik, aim to take forward the digital era and help our fellow businesses to rise and shine this holiday season.
Nikita Sharma is Chief Strategy Centrik @ HIcentrik. She Strategizes, Optimizes & Revises digital activities to deliver optimum results & returns.
6 Years of Global Experience in Multi-tasking, i.e. Digital Advertising, Social Media, Ad Campaigns, Web Design & Development, Lead Generation, and Reporting.