'Are we going to be left behind?' How small business can get or offer digital marketing resources during coronavirus

The COVID 19 pandemic has turned economies upside down and our daily lives to a standstill. Companies that provide pharmaceutical research, hand sanitizers (who would've guessed?), delivery services, home entertainment, and even toilet paper are taking advantage. The uncertainty of the impact of the coronavirus on small business owners is worrisome. Small and medium-sized entrepreneurs have to take drastic steps to continue operations and many are afraid about their futures.
Challenging times do create opportunities for small businesses too. We are witnessing smaller enterprises struggling with their financial portfolios as the number of confirmed coronavirus cases continues to rise, exceeding 18 lakh in the world on 13 April 2020. High Net-worth entrepreneurs, businesses and multimillionaire philanthropists are becoming heroes by pledging their support to the struggling businesses and the society at large till the crisis time passes. They are filling gaps that might otherwise have been left unfilled.
Here is a round-up of some of the activities and initiatives undertaken by private-sector organizations that are helping to combat the impacts of the coronavirus economic downturn.
How Big Corporate Houses Are Joining The Fight Against Pandemic (COVID-19)?
For the small businesses who are experiencing disruptions resulting from the global outbreak of coronavirus economic downturn. Know how a little financial support or digital marketing resources during coronavirus from big business can go a long way to help during this challenging time.
Mark Zuckerberg and Jack Ma of Facebook & the Alibaba group, respectively, have pledged to help combat the coronavirus repercussions. Microsoft will pay the hourly workers who support their campus. Also, Mark Zuckerberg and his wife Priscilla Chan are putting $25 million of their money behind an effort to develop therapeutic treatments for the COVID-19 coronavirus.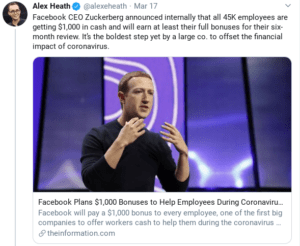 Google made a COVID-19 fund that enables all temporary staff to take paid sick leave if they have potential symptoms of coronavirus, or are quarantined. They have made their video conferencing service available for all G-suite customers until July 1, 2020.  Amazon is giving raises to current staff to deal with coronavirus demands.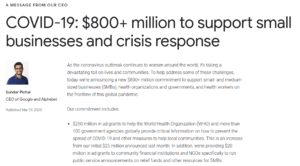 Apple and Walmart have deployed an Emergency Leave program, which provides time-off for employees depending on various coronavirus threat levels. UberEats and DoorDash have waived commission fees for restaurant partners. 
Forbes is hosting a digital summit for free on the theme of Business Resilience: Thriving in Crucial Times. The keynote speaker includes top experts such as Dorie Clark, Chris Brogan, and Rohit Bhargava. Video recording and sharing service, Loom has made Loom Pro free for educational institutions.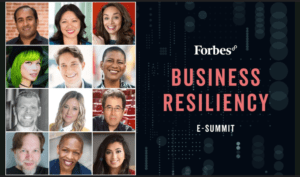 LinkedIn is opening up free courses that provide tips on how to use virtual meeting tools, stay productive, build relationships when you're not face-to-face, and work dynamics in a healthy way and balance family. 
Adobe is giving its Creative Cloud apps the ability to request temporary "at-home" access for their students and educators at no additional cost and is available globally.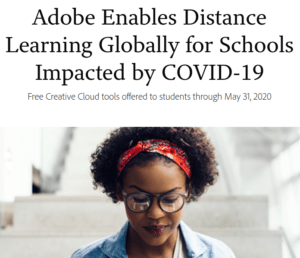 Dolce & Gabbana has partnered with Humanitas University to fund a COVID19 research project. Alphabet, which is the parent company of Google has created a coronavirus fund to provide sick leave to affected workers globally.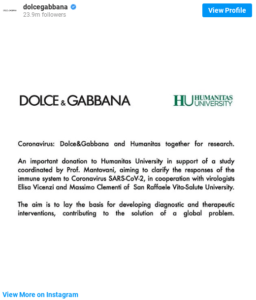 Citigroup, JP Morgan Chase, Morgan Stanley, Bank of America, Bank of New York Mellon, Goldman Sachs, State Street, and Wells Fargo have stopped all stock buybacks for the 2nd quarter to maintain their liquidity and solvency for customers during the pandemic. 
Amazon and Microsoft have pledged $2.5 million each to help out those afflicted by the coronavirus disease. CEO of Delta Is forgoing his salary for the year to diminish layoffs.
Managing Through Lockdown And Building Resilience During The Outbreak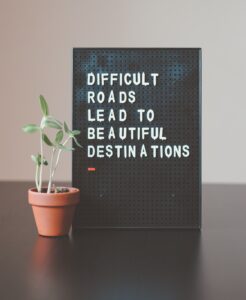 1. For small businesses which are experiencing unexpected challenges, here are the steps you can take today to help prepare for corona interruptions:
2. Keep yourself safe and informed by following credible & official sources viz., the World Health Organization (WHO), and the government health department so you can respond quickly to changes that could affect you or your customers.
3. Stay in touch with your customers proactively by sharing important information with them by email, your website, social media platforms (Facebook Page, Instagram business profile, or however you typically connect) for quick viewing. 
4. Let customers know they can send you questions via. call, email or message. 
5. Keep posting behind-the-scenes photos, "How-to" videos, or going live on social channels like Facebook or Instagram.
6. If possible, bring your business online.
7. Organize live sessions on social channels, such as Facebook or Instagram Or Host webinars.
8. Be transparent and responsive to your customers by preparing for incoming questions and requests. Stay connected with your customers for free in real-time using Messenger or setting up a WhatsApp Business profile, Instagram Direct messages.
9. Provide a list of responses to frequently asked questions (FAQs) and provide as much detail and reassurance as possible in your answers.  
How to Manage Resources During Coronavirus – The Plan
Many people running small enterprises may fear that support offered by the government so far might not be enough. They have struggled since the lockdown began with many not being able to pay employees sick pay and according to the surveys, few small businesses could collapse shortly. This corona crisis is like none other faced by small business owners in the recent past.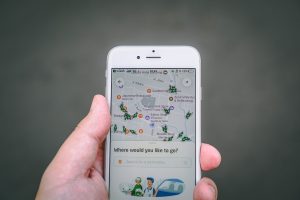 Tips that might make the difference in being able to keep your doors open and calm your employees and customers:-
1. Create a cash-flow budget that lists fixed cost versus variable costs. 
2. Analyze costs that aren't producing revenue or securing key business functions. Cut them.
3. Find additional financial sources of revenue. Be innovative in your marketing & sales.
4. Consider any savings or resources, including possible loans.
5. Proper adherence of COVID-19 policies within your organization
6. Don't plan too far out and remember things are changing often.
7. Use your social media presence to keep your customers up to date. If you typically don't use social media, it may now be time to build one. 
8. Invest time on Operations, research, and development, product or service improvements.
Conduct training in your company or get training yourself as a leader in areas you know will improve your company.
This too will pass and we should do all we can to help one another through it while we all learn and grow from this trial.
Advice From an Entrepreneurship Professor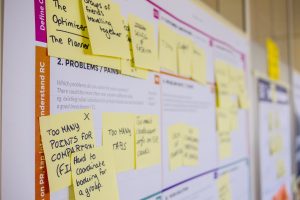 1. Figure out who you need.
2. Find ways to keep those key employees, even if it means losing more money because you are continuing to pay salaries.
3. Keep planning. 
4. Adapt and evolve as this situation unfolds. 
5. Position yourselves so you can come back when the crisis is over. We sincerely hope you can.
Help others in a positive way to counter the negativity and anxiety swirling around in the media constantly. Just look around and think about how you can come forward and be a leader during this challenging time for the world.
Gear up to be informed, safe and be prepared with HIcentrik – One of the Best Digital Marketing Companies in India!
Nikita Sharma is Chief Strategy Centrik @ HIcentrik. She Strategizes, Optimizes & Revises digital activities to deliver optimum results & returns.
6 Years of Global Experience in Multi-tasking, i.e. Digital Advertising, Social Media, Ad Campaigns, Web Design & Development, Lead Generation, and Reporting.